Are you considering an RV for your next vacation but not sure which type is right for you? Choosing the best RV type depends on a variety of factors, from where you plan to travel to how much money you want to spend.
In this article, you'll learn about the various types of RVs so that you can make an informed decision!
Are you considering an RV for your next vacation? With so many makes, models, and sizes to choose from, making the right decision can be a challenge. From comfortable Class A motorhomes to the more nimble Class B camper vans and travel trailers, there's an RV that fits your individual needs and desired level of comfort. In this article we will look at the different types of recreational vehicles and explore the features that make each unique.
Whether you're new to RV camping or a seasoned traveler, you can easily find the perfect vehicle for your next adventure. Let's get started by examining each type of RV in detail.
Importance of selecting the right RV type
The process of selecting the right RV type can be made easier by understanding how your needs, lifestyles, and expectations fit into a given vehicle category. While there may seem to be endless options for RV types, once you narrow these choices down to the ones which suit you best, the decision process becomes much simpler.
When making an RV selection, you should consider not only the size and weight of your rig but also its usage. Different RVs are better suited to different purposes such as dry camping at remote locations or hauling horses over long distances. Additionally, if you are dependent on hook-ups such as water and power sources (or if you need to tow a trailer), your choice of motorhome or camper types should take those scenarios into account. Whether traveling through town or across country, it is important that you select an RV that meets both short-term and long-term needs. Taking some time to do research before making a purchase will benefit first time buyers and seasoned veterans alike!
Motorized RVs
Motorized RVs are the most common type of RV and often come in a range of sizes to accommodate different budgets and needs. A motorized RV is the perfect option for those who want the convenience of not having to tow or set up a campsite each time they travel. The main benefits offered with motorhomes are:
-No need towing – Motorhomes come with their own engine, allowing you to go directly from point A to point B without any hassle.
-Convenience – Motorhomes also offer storage compartments for all your camping gear so that you don't have to worry about packing everything into a trailer each time you travel.
-Accommodations – Motorhomes often come in luxurious designs that have all the same amenities as home, such as living and dining areas, private bedrooms, bathrooms, full kitchens, and all the modern conveniences you'd expect.
-Even bigger rigs still retain much of their maneuverability – Even larger motorized vehicles such as Class A RVs (<35 feet in length) offer impressive maneuverability when compared to other types of RVs on the road.
These types of RVs are perfect for family trips or longer stays out on the open road but can be pricey depending on size and style. While smaller motorhomes (Class B & C) have limited living space, they offer both maneuverability due to their size and cost-efficient operating expenses when compared with larger rigs like Class As.
Class A RVs
Class A RVs are the most luxurious type of recreational vehicle and come with plenty of amenities. They are often referred to as motorhomes, and they are made with a large cabin or bus-like or van-based body. The chassis of the Class A RV is usually furnished and features a powerful engine that makes navigation simpler in various types of terrain.
These vehicles feature home comforts, such as air conditioning, heating, kitchen and bathroom units, as well as sleeping space. Class A RVs generally have high ceilings, slideouts for extra space, multiple television sets and DVD players, plenty of storage spaces and amazing exterior graphics for maximum effect.
Class B RVs
Class B RVs, also known as camper vans, offer the utmost in convenience and comfort when on the road. These are the smallest and most fuel-efficient Class of recreational vehicle. They come in a van-style body with a range of amenities that makes it easy to transition between city life and road trips. Features may include folddown beds, built-in kitchenettes, bathrooms, television/DVD players, wireless internet and more.
They are perfect for couples or single travelers who don't need a lot of room but want all the conveniences of an RV. These types of motorhomes can usually be parked anywhere since they fit easily into standard spots and some even fit into car parking lots! The interior dimensions are smaller than many other vehicles yet still accommodate two or three people comfortably since you only need to slide aside one section or seat to make room for sleeping quarters.
Class B RVs provide maximum convenience for both travelers who like to stay on the move and those who like to camp out in one place for extended periods of time.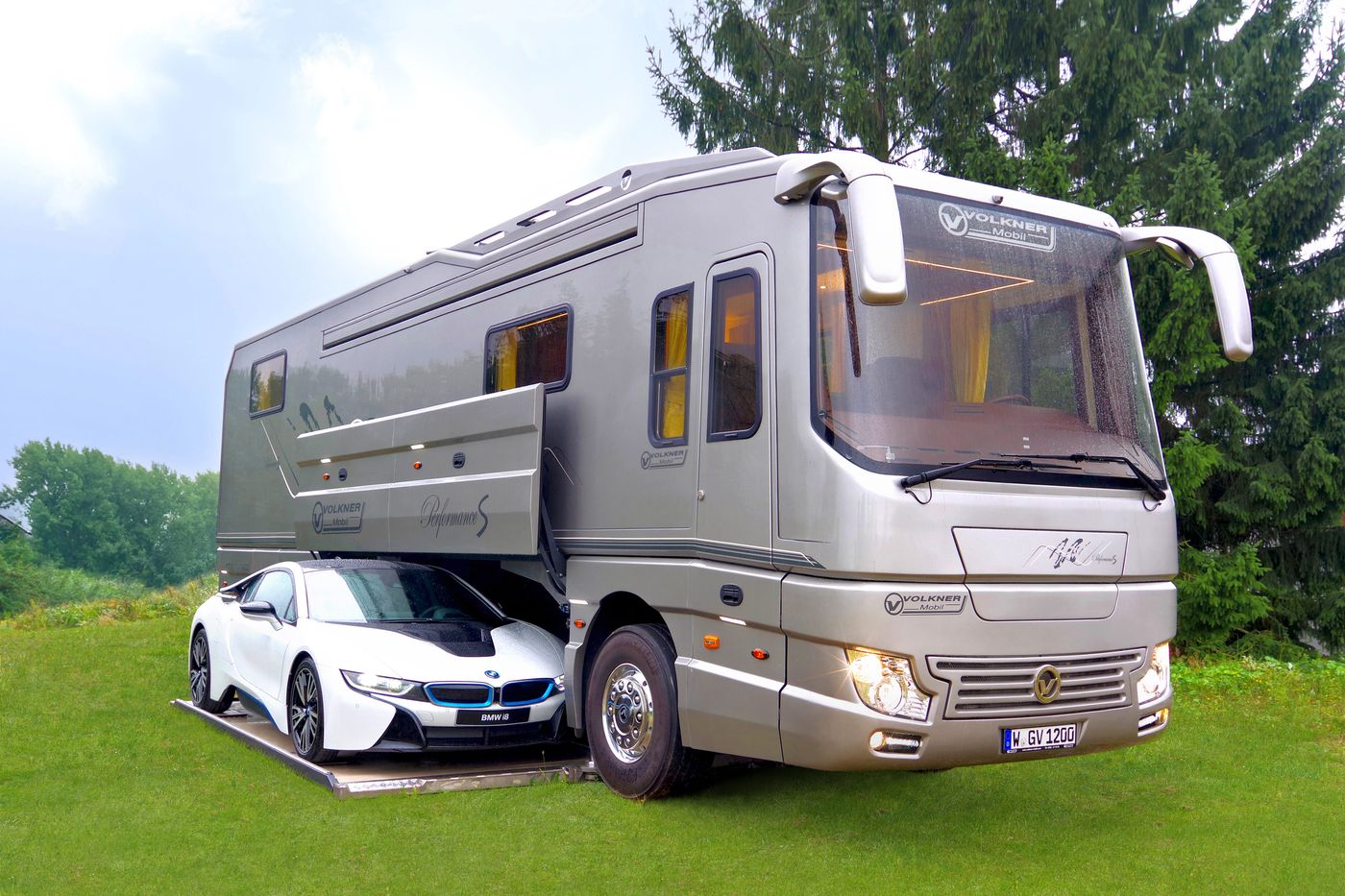 Towable RVs
Towable RVs are great for those who want to benefit from the mobility and comfort of an RV, but don't need their vehicle to get there. Towable RVs come in three main styles – travel trailers, fifth wheels, and toy haulers. When shopping for towables, it's important to know the pros and cons of each type to make sure you make the best purchase for your needs:
Travel Trailers: Travel trailers offer a wide range of sizes that allow for great comfort on both long and short trips. They are easy-to-pull thanks to their aerodynamic design and low center of gravity, making them ideal for families with passengers who don't want to be forced into a single car while on vacation. Travel trailer pros include greater fuel efficiency than motorized RVs such as Class A or C models with diesel engines in addition to easier maneuverability when making turns, navigating gas stations, and when parking in tight spaces without sacrificing on space or comfort that comes with larger rigs. Cons include more limited storage options if you don't choose a model with an exterior storage platform up front.
Fifth Wheels: Fifth wheels are taller than travel trailers, making them ideal for those wanting maximum space at campsites that offer hook ups such as water and electricity (known as "full hookup sites"). They look like stepped-up versions of travel trailers minus the hitch in the back — all included amenities found in luxurious towables such as air conditioning units come standard within larger fifth wheel models. Additionally, fifth wheel bedroom spaces are larger due to their extra height which creates increased headroom above bedding areas/ If living off of hookups is desired there are still plenty of benefits that accompany this style — some memory foam mattresses or electric fireplaces can be added giving many an almost homey feeling while away from home. One word of caution when selecting this style — they require more room so make sure you have at least 35 feet available if parked in a driveway before pulling away! Cons include needing more fuel power required due to size so it is important not just the size but also power rating when selecting this type — make sure it is appropriate for your tow vehicle!
Toy Haulers: Toy hauler hybrids provide owners with different options when compared against traditional travel rigs – they contain built-in garages allowing cars, motorcycles or ATVs to be loaded right onto the RV itself! This gives once limited life on the road even more options including those associated with having teardrop style camping accommodations stretched across both inside and out! Pros include extra storage spaces ability pull large vehicles toys such as boats bikes etc behind . . . Con is sometimes taking up too much space (depending on type) one issue some toy haulers have encountered at certain camp spots due lack head clearance . . .
Travel trailers
Travel trailers offer an economical and convenient way to have a home on the road. They usually consist of a frame mounted to a chassis and are equipped with living, kitchen and dining amenities. As the name implies, they can easily be towed by a vehicle, making them an ideal option for smaller families or those who don't own a truck or large SUV. Additionally, storage space is often more plentiful than in other RV types.
Other advantages of travel trailers include easy setup once you reach your destination, as well as the ability to disconnect from your tow vehicle for added freedom. However, travel trailers are more susceptible to wind and road shocks due to their size and light weight when compared with larger rigs such as 5th wheels or motorhomes.
Pop-up campers
Pop-up campers, also often known as folding camping trailers, are the most economical RV type available. These vehicles collapse down to a more manageable size and weight, making them easier to tow and store. Pop-up campers cost significantly less than traditional RVs because of their smaller size and fewer comfort features. Furthermore, these campers have allowed companies to create lightweight models with sleeping capacities for up to 8 people.
Folding camping trailers typically have a canvas tent-like appearance attached onto a metal frame that supports the unit's structure when it is opened up for use. The pop-up camper is divided into two sections – a sleeping area (often featuring abed or bunk bed set up) and living area/kitchenette with basic amenities like a sink, stove, refrigerator and heating system. Many models come with extra features like awnings, built-in bathrooms or showers depending on their size category.
Pop-up campers offer the convenience of an RV without its hefty price tag and are an affordable introduction into the RV lifestyle for those who are just beginning out as recreational vehicle owners. For those looking for an economical solution without compromising on space or amenities, choosing between 'soft' sides versus 'hard' sided popup trailers can be difficult — but either option will still prove to be more convenient than standard tent camping!
Types of pop-up campers
Pop-up campers are an attractive option for those interested in the RV lifestyle. Pop-ups, or folding camping trailers, usually feature a hard top and sides that fold out to essentially double the living space when you make camp. Additionally, they're lightweight compared to other types of RVs, making them easier to tow with most vehicles. Popular interior features may include a sink and stovetop, along with basic sleeping accommodations like a dinette and convertible beds. Folding campers may range anywhere from 8-20 feet in length but most typically measure between 10-14 feet once set up. There are many different types of pop-up campers available on the market including A-frame popup campers, hardside popup campers, hybrid trailers and toy haulers.
A-Frame Popup Campers: These lightweight models offer a generous amount of usable living space due to their vertical walls and steeply sloped front end. They also have the lowest tow weights on the market making them one of the easiest pop-ups to tow behind vehicles with smaller tow ratings. They often have shower/toilet combinations as well as cooktops so you can truly enjoy your time camping away from homebase.
Hardside Popup Campers: These provide more spacious interiors than A frame pop ups due to lower side walls that create more horizontal floor space when folded out making them great for larger families or groups who require additional room while camping. They typically come equipped with full kitchen options like microwaves, ovens and fridges meaning you can still enjoy all your home luxuries even away from homebase!
Hybrid Trailers: As their name implies these hybrids combine aspects of both tent camping and RVing providing ultimate flexibility for casual weekend trips or longer vacations alike! Combining lightweight hard sides with soft tent like canvas beds means you get plenty of useable floor space for sleeping without sacrificing comfort or convenience! Hybrid Travel Trailers also tend to be much lighter in weight compared to traditional RV trailers which is great news if you only have a smaller vehicle for towing purposes!
Toy Hauler Travel Trailers: Toy haulers feature an open cargo area perfect for packing all your outdoor fun equipment such as kayaks scooters dirt bikes etc so you can bring along everything you need for adventure on the road! Much like Hybrid Trailers Toy Hauler RVs also come in both hard side and soft sided varieties so there's something here that'll cater perfectly to your needs no matter what they may be!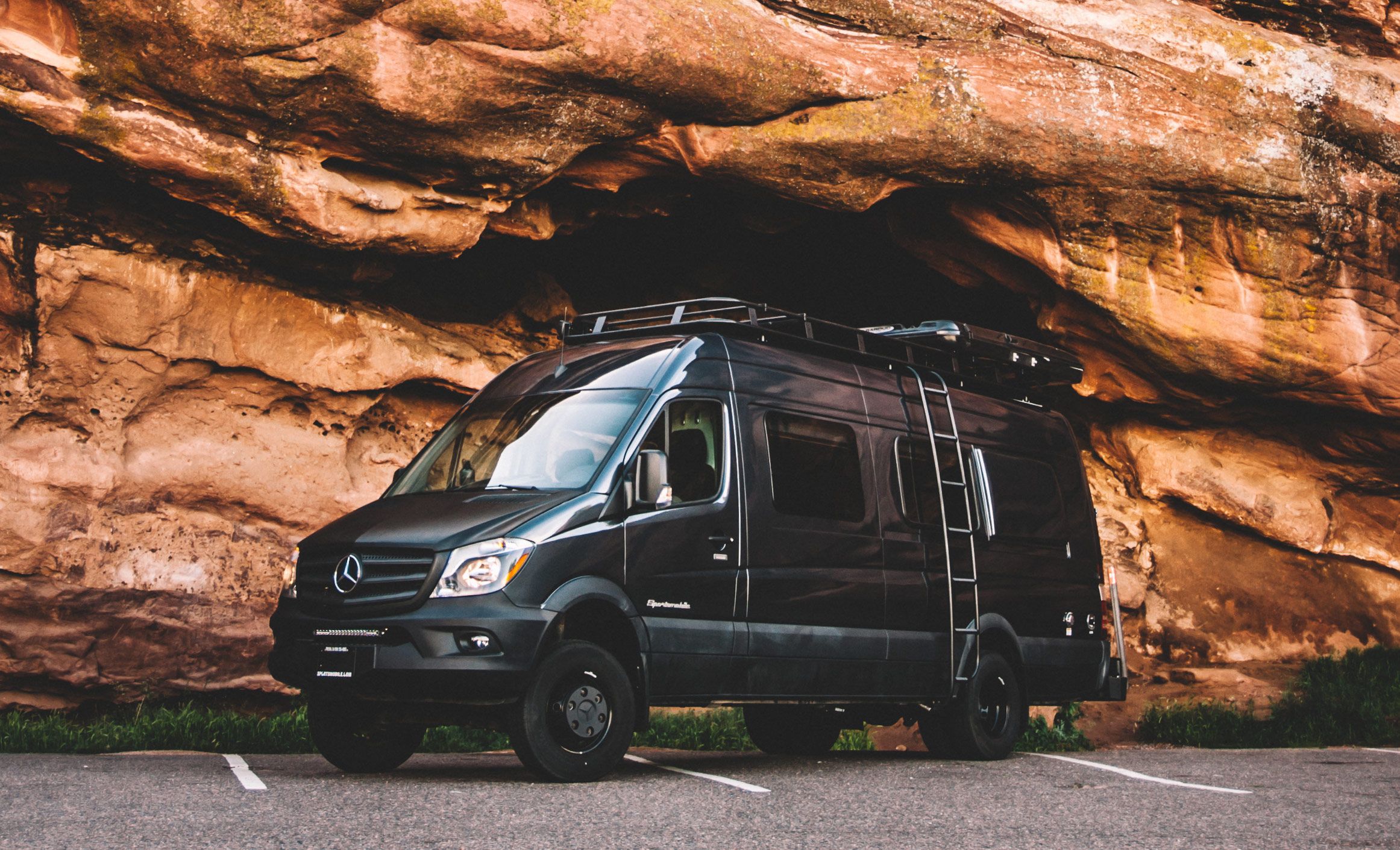 Pros and cons of pop-up campers
Pop-up campers, also known as folding campers, are the smallest type of recreational vehicle (RV). They are much smaller than traditional travel trailers and are typically towed behind a car or truck. Pop-up campers offer a number of advantages such as a smaller overall size, lower cost and greater maneuverability. However, they also have some drawbacks you should consider before purchasing one.
Pros:
-Lower cost than other RVs
-Easy to transport and tow
-Often includes basics like kitchenette, sleeping area and seating
-Fits in most driveways or garages when collapsed and stored
-Lightweight materials make it easy to load and unload
-Maybe less subject to parking regulations in public locations due to their small size
Cons:
-Less interior storage and counter space than other RV styles
-Less insulation makes them colder in extreme temperatures than larger RVs
-May be more vulnerable to elements like rain due to limited sealing features
-Interior ceiling height is often limited compared to full sized RVs
-Tarp cover may not be reliable protection if left outdoors exposed
Choosing the right RV type for your needs
Choosing the right RV for your needs is a difficult task, as there are many types to consider. To help make this process easier, let's take a look at the various types of RVs so you can decide which one will be a perfect fit.
Class A motorhome: Designed for long-term travel, this type of RV is one of the most expensive and luxurious. With comfortable sleeping options, full bathrooms and kitchens, Class A motorhomes allow you to live like you do in your own home while on vacation.
Class B motorhome: Also known as "camper vans," this type of RV is smaller and more fuel-efficient than Class A motorhomes. Unlike other motorhomes, it may not have bathrooms or kitchens but these amenities can be added to some models. It is great for weekend trips or short excursions due to its smaller size and easy maneuverability on highways and city streets.
Pop-up camper: Pop-up campers are manageable in size and cost less than other models. Although they are not as luxurious as some other RVs with limited amenities available inside the camper, their affordability makes them attractive for budget travelers who want more from their camping experience than just a tent in the woods.
Fifth wheel trailer: If you own a larger truck that can tow it, this type of trailer will give your family plenty of room to stretch out while also providing plenty of storage space in the form of an extra cargo area beneath the trailer situated at the rear. Fifth wheel trailers typically have slide out floor plans that optimize living space while traveling on long journeys or weekend trips with family or friends.
Travel trailers: Smaller in size than fifth wheels but still providing ample living space inside when pulled by lighter trucks or SUVs , travel trailers give travelers flexibility to stop close to attractions during vacations and then drive onto new explorations whenever desired . They often come with optional accessories such as TVs , air conditioning units , stereos and generators .
Purpose of RV usage
Before you begin shopping for the perfect RV, it's important to consider the purpose that the vehicle will serve. What activities are your priorities? Will you primarily be camping, traveling between destinations or living in the vehicle full time? By evaluating which activities consume the majority of your time on the road, you'll be able to narrow down your options and make an informed decision when selecting an RV.
The size and style of RV that is right for you can vary depending on your specific needs — a Cross-Over SUV camper may not be ideal if you plan to travel around Australia while a Class A Motorhome is more appropriate if you plan to live the full-time RV lifestyle. The type of trips, duration and number of people travelling with you all make determining an appropriate RV type difficult — but by examining these factors and following some simple guidelines, it will become much easier to pick out what is right for you.
Take some time to explore different types of RVs that are available as we break down each option here. You may find yourself drawn towards a larger travel trailer or something smaller such as truck camper — whatever kind works best with your lifestyle should be at the top of your list! Whether its ability to perform off-roading tasks or extended journeys across multiple countries — all these features should factor into which RV type is chosen for an optimal user experience.
Number of people using the RV
When considering an RV, it is important to think about how many people need to be accommodated. Small campers and pop-up trailers are designed for two or three people, while larger travel trailers have more room for up to six people. Another option is a motorhome, which provides luxury RVing for even larger families and groups of up to 10 or 12 people.
Also consider any pets you may have. Dog owners can benefit from having RVing options such as truck campers, teardrop trailers and toy haulers that will provide comfortable living space for both you and your pet. If your goal is mainly camping, consider the smaller towable models such as camping trailers or expandable tent camping trailers with enough room for the whole family including pets if necessary.
If you're looking for an RV that allows you to take your home on the road, then a motorhome might be the right choice for you. Class A motorhomes are typically equipped with amenities such as showers and fully functional bathrooms that offer a superior level of comfort unmatched by anything else in the world of recreational vehicles. However, these types of RVs tend to be very expensive so it may be wise to first look into rental options before committing to a purchase price.
Conclusion
In conclusion, there is no single best RV type for everyone. The type of RV you decide to buy will depend on your individual needs and preferences. Consider the various physical size, age, and comfort tradeoffs as you narrow your search. Take time to test out different RV types before making your final decision.
And remember that even if you decide that one particular type is right for you now, your needs may change over time – leaving you with the possibility that a different type of RV might be a better fit when the time comes!
See Also: