Planning a cross-country road trip in an RV can be challenging and overwhelming. You want to make sure you have a fantastic, stress-free adventure. Do you want to know how?
Read this article to take the guesswork out of planning your dream cross-country RV trip!
Are you ready for a road trip adventure? Traveling across the country in your RV is an exciting and liberating experience that will give you the independence to explore as much as you want. To make sure your journey goes smoothly and safely, it's important to plan ahead. In this guide, we'll provide tips on how to plan a successful cross-country RV trip and what to consider before you hit the road.
By following these steps, you'll be able to enjoy an unforgettable experience that won't break the bank. So get ready – it's time to go on an incredible journey!
The appeal of a cross-country RV trip
A cross-country RV trip is an exciting and unique way to travel. The combination of seeing the sights and comforts of "home" all within a single vehicle can make the journey more enjoyable.
From the beaches of Florida to the hot springs of California, there are many amazing scenic views to explore along the way, allowing for plenty of memories with friends or family that last for a lifetime.
With proper planning, an RV trip is an easy way to experience all of America in one trip!
Choosing Your Route
When you're planning a cross-country RV trip, choosing the route is one of the most important decisions you can make. You'll need to consider factors like weather conditions, the type of terrain you'll be traversing, and where you want to stop and explore. There are also safety issues to consider, so make sure your chosen route is appropriate for your vehicle's size and capacity as well as for your skill level as a driver.
You have several options when it comes to selecting a route. The traditional east-west cross country drive takes you from coast to coast and provides plenty of attractions along the way. You could also choose an interstate highway that's well-maintained with no major construction projects. This type of route is typically free of traffic jams and offers amenities like gas stations and rest areas every so often.
In addition, there are more scenic routes that consist of back roads or rural highways where the scenery may be more peaceful but accommodations will be hard to find in off-the-beaten path towns or villages. If quiet countryside sounds appealing, this kind of route may be exactly what you're looking for! Think about where you'd like to see in each state as well how many miles would feel comfortable driving each day during your trip – these items will help guide you as you plan out an enjoyable route!
Determining your starting and ending points
Before you can plan a successful cross-country RV trip, it's important to determine your starting point and your desired ending point. This will help you establish the route that is right for your needs—one that not only takes you to all the places you want to visit, but one that avoids potential hazardous road conditions and rough terrain.
Be sure to factor in enough time for stops along the way. This is critical for RVs given their size and weight, so be sure to allot plenty of extra time just in case any unpleasant road conditions should arise. When planning your journey, consider staying at RV parks along your route that may offer essential services like refueling stations and repair shops. It is also wise to have a backup plan mapped out in case of unexpected delays or detours due to bad weather or travel inequities. Finally, consult a guidebook before setting out so that you can make informed drive time decisions.
Identifying must-see destinations
Having a plan in place for how you want to spend your time on the road is key to making sure that your cross-country trip is enjoyable and stress-free. Once you've mapped out your route, it's time to identify the must-see destinations along the way.
There are libraries of information out there with suggestions, so take time to really do your research. Consider both big cities and smaller towns with unique attractions — what would be most interesting and exciting to you? Also think about natural wonders, national monuments or parks, museums or historical sites, or amusement parks; there's no shortage of possibilities. You can break things up by region or just focus on major cities along the way.
Frequently check back on relevant travel websites for alerts related to road closures or current events that may impact your trip plan.
III. Budgeting for Your Trip
Budgeting for a cross-country RV trip is an important part of your planning process. You will need to take into account both the cost of the trip itself and any post-trip expenses that you anticipate. Here are some key areas of budgeting to consider:
Vehicle Costs – This includes maintenance, fuel costs and any insurance or fees associated with your RV.

Campsite Fees – Campsites may have nightly or weekly rates depending on the type of accommodation it offers, so take this into account when planning where you are going to stay on your trip and how long you intend to stay there.

Activities – You will want to consider admission fees or rental rates for any activities that you plan on doing while on the road such as national park visits or water sports activities.

Food – Costs for food can vary drastically depending on where you eat, so factor in a range of price points when budgeting for meals out as well as enough money for buying food at grocery stores if you plan on cooking in your RV instead of eating out all the time.

Miscellaneous – This includes additional expenses like sanitary needs, internet access/data plans (if needed), additional clothing, souvenirs, etc., that can quickly add up over time if not taken into consideration beforehand. Make sure your budget encompasses all items necessary for a successful trip from start to finish!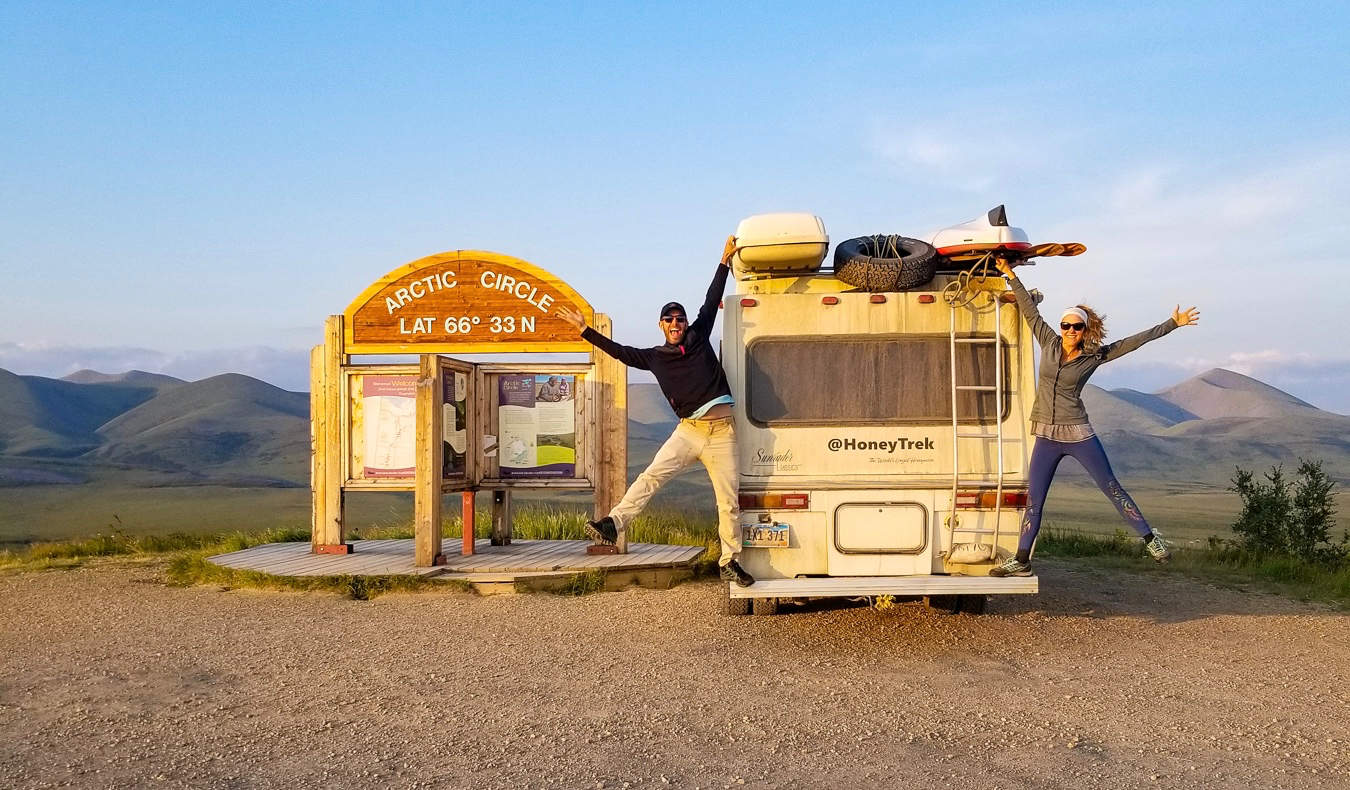 Setting a travel budget
Creating a travel budget is the first and most important step in the RV trip-planning process. Many people overestimate how much it will cost to maintain their vehicle, camp overnight, or buy food each day of their journey. Therefore, it's essential to set a realistic budget for your trip.
First and foremost, you should determine the necessary expenses that your RV journey will have. This includes fuel costs for driving from one destination to another, campground fees and night-by-night accommodations along the way, potential service repairs for your RV, miscellaneous food costs, supplies needed to maintain personal hygiene, souvenirs you may want to purchase at various localities encountered during your travels. Additionally, account for costs associated with recreation related activities such as tickets for entertainment venues or recreational equipment rentals.
Once you have identified all of these expenses you should allocate funds toward them so that your budget allows you begin planning other details related to your journey such as where and when to recreate along the way—which involves making decisions about how long you'll stay at each location. Creating a well informed budget can help alleviate any surprises brought up while on vacation while staying within spending limits set by yourself​ or other trip participants.
Determining daily expenses
In order to ensure you are financially prepared for your cross-country RV trip, it is important to determine your daily expenses. Start by estimating the cost of fuel for all of the miles you will be driving. Estimate how much money you will need for food, beverages, park entrance fees, and enough cash to cover situations that may arise unexpectedly. Keep in mind that these estimated costs should account for additional expenses caused by any geographical features, such as mountains and winding roads.
In addition to the expenses outlined above, account for an emergency fund should anything unexpected come up during your trip. When camping at an established campground, plan on paying a fee (ranging from $20-$50 per night). If dispersed camping off-grid or on Bureau of Land Management land is allowed in those areas (check ahead!), anticipate spending extra money on activities like kayaking, white water rafting, rock climbing and other entertainment while exploring wild public lands along your trip route.
Before leaving home make sure you thoroughly research each stop on your itinerary and create a budget based upon expected daily expenses so you can remain within your travel budget throughout the entirety of your journey!
Finding the Right RV
Once you've planned out your general route and the places you want to visit along the way, it's time to think about what kind of RV is right for your journey. RVs can range from small A-frame camping trailers all the way up to full-sized Class A models, so don't feel like you need to buy something expensive or overly large. Consider how many people will be traveling with you and what kind of amenities you're looking for.
If this is your first time traveling in an RV, it's a good idea to rent one before buying (or even borrowing one from a generous friend or family member). This will give you a chance to get used to driving and maneuvering the different types of RVs without making a major investment.
Once you've decided on an RV that works with your timeline and budget, it's time to start preparing it for your cross-country trek! Make sure all mechanical systems are functioning properly and bring along any spare parts, tires, or hoses that may need replacing on the road. Check your water system as well; buy bottles of water if necessary or consider investing in a filtration system for your freshwater tank so you can drink safely from any source.
Renting or buying an RV
Before embarking on your cross-country RV trip, you will need to decide whether to rent or buy an RV. If you only plan to take a short RV trip or two and do not plan on doing much camping, then renting an RV may be the best option for you. You can rent RVs from rental companies or even through online services such as Outdoorsy. When renting, you will want to make sure that the RV has all of the amenities that you are looking for and that the price matches your budget.
On the other hand, purchasing an RV can be a large initial investment but can save you money in the long run if you plan on becoming a more frequent camper. When purchasing an RV pay attention to key factors such as floor plan and amenities offered by different models to ensure that it fits your needs and budget. Additionally, be sure to read reviews of both rental companies as well as models before buying in order to gather all of the information needed to make an informed decision on which model is right for you.
Choosing the right size and type of RV
The size and type of RV you choose for a cross-country trip will depend on several factors, including the number of people traveling, the length of the trip, budget constraints and where you plan to stay during the trip. The type of RV can range from a more traditional motorhome to a fifth-wheel trailer or a travel trailer. All have their own pros and cons.
It is important to consider your needs carefully when evaluating different types of RVs. For example, a travel trailer offers more flexibility due to its smaller size and ease in backing up, while fifth-wheel trailers are roomier and easier to tow. On the other hand, motorhomes offer more convenience with most being self-contained – but they tend to lack in storage space compared to larger options such as fifth wheels or travel trailers.
As far as sizes go, there are plenty of options available depending on your needs — from small vans or truck campers perfect for two people all the way up to full featured Class A motor homes that feature separate bedrooms and living rooms for longer trips in luxury with larger groups.
It's also important to consider additional equipment such as satellite dishes for television access or power generators in case shore power isn't available at your campsites. Doing research ahead of time can help you make sure you have everything you'll need for your trip before you go.
Planning Your Stops
When planning your RV trip, the stops you make are just as important as your route and route timing. You'll want to be selective about where you pull beside the road and where you stay overnight. Here are a few tips to help you plan your stops:
-Research in advance – By doing some online research before setting out, you can find campgrounds and other areas with amenities like restrooms, showers, laundry facilities, and entertainment that meet your needs.
-Break up long drives – Once on the road, be sure to analyze your route at regular intervals so that you don't end up driving too long without a break. Plan for regular rest stops if needed.
-Be aware of seasonal factors –The weather may affect what type of activities are available during each season in different destinations. Checking in advance can help ensure your activities line up with the seasonal offerings of each place you visit.
-Look for discounts — Check for possible discounts when reserving RV parks or other attractions so that you can save money on lodging and entertainment along the way.
Identifying overnight stops
Planning an RV trip across the country requires where to stay overnight. Before you begin, you should make a list of places along your route that may be suitable for parking an RV overnight. You'll want to consider the average cost of overnight parking, the area's noise level, its access to services, and other factors. It is important to research the places beforehand since not all establishments or campgrounds will be open and accessible due to safety concerns or physical limitations such as rough terrain or access roads that can't handle larger RVs.
You should also take into account how far your rig can realistically travel in a day without needing repairs or maintenance. Typically this varies from about 250 miles per day for larger units and 500 miles per day for smaller units. This will help you determine how many days it will take you to reach your destination and where are the best places for rest stops in between. Additionally, you may want to confirm what type of hookups are available at each site which may include water, electric, sewer and/or internet connections.
Researching RV parks and campgrounds
Before you hit the road, researching RV parks and campgrounds is one of the most important steps in planning your cross-country RV trip. Start by considering what kind of camping experience you want. Will you be staying at campgrounds with amenities such as showers, bathrooms, and other luxuries? Or would you prefer to stay in more primitive RV parks surrounded by nature?
Once you have decided on a camping style, it's time to look for a place that meets your needs. Utilize affordable camping directories and websites to help narrow down potential locations that offer compatible facilities. With some advanced planning, you can even use these resources to figure out how much fuel will be necessary to get from point A to point B.
Furthermore, take a couple weeks out of your journey and call ahead when making reservations for RV parks or campgrounds so you can get an authentic feel for the area before setting off on your adventure. Be sure to inquire about any special requirements or policies they may have regarding pets or leases so that nothing catches you off guard when checking in.
Conclusion
Your cross-country RV trip will be the experience of a lifetime. By now, you have considered your RV options and taken into account the cost of your trip, figured out where you will go, figured out how to keep in contact with family, prepared for any unexpected events on the road, and explored all the attractions along your route.
With all these considerations in mind, you are ready to plan and prepare for your journey. Use online resources to research attractions and figure out what kind of things you'd like to do along the way. There are lots of great ways to save money while traveling in a recreational vehicle — buy used items where possible or rent them from one-way rental outlets, eat at local roadside stands instead of chain restaurants (they're usually cheaper anyway), and camp or dry dock instead of staying in overpriced campgrounds. It's also important that you take care not to overbook your itinerary — giving yourself time and space to relax will ensure that you make the most out of every moment on the road!
Ultimately, if you plan properly, use sound judgment along the way, and never forget why it is that you set forth on this adventure in the first place — because it's going to be an incredible experience! Have fun!
See Also :