Are you an RV enthusiast, wondering how to ensure your mobile home is properly covered? Whether you're a full-timer, weekend warrior, or just getting started in the RV lifestyle, you need to make sure the right policy is in place.
This article will guide you on choosing the best RV insurance policy so that you can travel with peace of mind.
In this guide, we will provide an overview of RV insurance and discuss key considerations to help you choose the best coverage for your recreational vehicle. We will cover topics such as types of policy coverage, applicable regulations and important tips when searching for an RV insurance provider.
With the right information, you can make an informed decision when selecting a policy that will protect your recreational vehicle investments and give you peace of mind.
Importance of RV insurance
RV insurance is an essential component of owning and operating a recreational vehicle. Having comprehensive coverage ensures that you and your family can enjoy your travel experiences without worrying about costly repairs or medical bills in the event of an accident. RV insurance typically covers the cost of repair or replacement of the vehicle itself, as well as the personal property inside, components like the awning, hitch and propane tanks, any loss or damage to other vehicles, buildings or property caused by your RV, and liability coverage for injuries to passengers and other drivers. It may also include emergency expenses for medical care and living expenses if you're injured away from home.
In addition to collision and theft coverage, many RV policies also offer specialized protection for travelers. This includes roadside assistance coverage so you don't have to worry about being stranded in a remote area without access to help; rental reimbursement if your vehicle needs repairs after an accident; total loss replacement payouts if your RV is totaled; no-fault liability which requires insurers in many states to cover bodily injury claims regardless of fault; pet injury coverage which will cover vet bills if Fido gets hurt in an accident; vacation liability which covers third-party damages while you are on vacation; uninsured motorists coverage which covers you in case of an accident with another driver who isn't insured; and much more.
By understanding exactly what your policy covers before taking off on any trips,you can enjoy peace of mind knowing that you are protected from potentially pricey risks on the road. With comprehensive RV insurance from a reputable provider backed by secure online quotes, flexible payment plans and excellent customer service – exploring all corners of this great country can be more fun than ever!
Assessing Your Needs
Once you have gathered quotes from a variety of insurers, it's time to assess your needs and determine which insurance policy best fits your budget and lifestyle. To do this, consider the following factors:
Type of RV: Different RVs require different types of insurance coverage. For example, a pop-up camper will cost significantly less to insure than a luxury RV. Likewise, the more expensive your RV is, the more coverage you'll need in order to fully protect it.
Length of Trip: Most policies are written for shorter trips (less than 30 days) or annual trips (longer than 30 days). The type of policy you choose will typically depend on how often you plan to use your RV. If you plan on occasional weekend camping trips and vacations, opt for a short term policy; if you plan on living in your RV full-time or for extended periods of time throughout the year, an annual policy would be more suitable.
Driving Record: Your driving record will also be taken into consideration when choosing a policy; most insurers will not extend coverage to drivers with serious offenses like DUI/DWIs or reckless driving convictions on their record.
Personal Property: Many policies also offer additional coverage for personal property that is stored in or transported by your RV; check with your insurer to find out if this type of coverage is included and what it covers.
These are just some of the factors that should be considered when assessing which RV insurance policy is right for you. Remember to shop around and compare different policies to make sure that you get the best deal for your needs and budget.
Determine the type of RV you own
Before you can get an accurate RV insurance quote, it's important to understand what type of recreational vehicle (RV) you need to cover. It is important to consider the age and condition of your RV when deciding on a policy.
Motorhomes – Motorhomes are larger vehicles that are sometimes referred to as Class A, B or C. They include motorized campers, vans and buses. Depending on the type of motorhome you own, your coverage will vary and could include additional living space components.
Fifth Wheels – Usually larger than other types of RVs, these recreational vehicles attach to the bed of a truck for travel. They usually feature either one or multiple bedrooms and bathrooms, as well as other amenities such as kitchens and living spaces.
Travel Trailers – Detachable from trucks or cars and towed via trailers, these recreational vehicles can be tiny trailers all the way up to very large ones that offer several rooms for comfort. Because these units typically feature numerous amenities such as plumbing appliances, built-in-bathrooms, kitchens and extra space for sleeping and entertaining, they may require more coverage than smaller units do.
Tent Trailers – These lightweight trailers come in various sizes but collapse into a box in order to be towed by automobile or truck with very little effort involved in setting them up at their destination. Due to their small size they often require less insurance coverages than larger RV's would need.
Determine how often you use your RV
When deciding which type of RV insurance policy to select, the frequency with which you use your Recreational Vehicle should be taken into consideration. A recreational vehicle is usually not used on a daily basis, so it may be advantageous to purchase an insurance policy that provides coverage for temporary trips or terms used for sporadic use. These policies usually cover you for a specific number of days and exclude any coverage for continuous usage (i.e., more than 30 consecutive days). Temporary trip insurance can often provide more coverage than auto insurance when used intermittently and can sometimes be purchased in increments as low as a single day or weekend.
It is also important to note that some states require full-time RVers—those who live in their RV six months out of the year or more—to have specialized motor-home policies in lieu of car insurance. If you plan to stay at one location in your RV on a long-term basis, check with your local DMV office to make sure that you have sufficient coverage.
III. Comparing Insurance Policies
Once you have identified your insurance provider and gotten quotes, it's time to examine each policy in detail and compare them. Your policy should offer the right kind of coverage and be tailored to the needs of your RV, so here are some important things to consider when you're comparing policies:
-Deductible: This is the amount you will have to pay out-of-pocket before your insurance kicks in. The lower the deductible, the higher your premiums will be.
-Coverage Amounts: Make sure you have enough coverage for all of the components of your RV as well as for any personal items that may be inside.
-Discounts: Insurance companies often offer discounts so make sure you ask if there are any advantages you can get by choosing a particular policy.
-Additional Coverage Options: Depending upon where you live, you may want additional coverage choices such as personal injury protection (PIP) or uninsured motorist coverage (UM).
Research different insurance companies
When you're ready to purchase an RV insurance policy, research your options carefully. It's important to choose a reliable company with good reviews and a positive reputation.
Check the collection of ratings released by different consumer organizations and look for companies that offer additional coverage or benefits that may be useful to you. Some companies prioritize customer service, some have specialized coverage tailored to RV owners, and some offer discounts or reimbursements for certain activities related to RV use such as camping, travel, and storage.
Ask around – you can get great advice from other RV owners about the best companies for coverage.
Compare coverage and premiums
When you're ready to start looking for RV insurance, one of the first steps is to compare coverage and premiums. RV insurance coverage is typically broken down into four categories: liability, collision, personal injury protection and comprehensive. Liability helps cover costs if you are responsible for an accident that causes bodily injury or property damage. Collision protects your vehicle if it's damaged in a crash or struck by another object, while comprehensive pays out when your vehicle is damaged due to an event other than a traffic accident. Personal injury protection includes medical payments to you and passengers in the event of a vehicle accident.
The amount of coverage you need depends on a variety of factors such as type of RV (motor home, travel trailer or camper) usage frequency, age and value of the RV and any modifications made to the RV. It is important to consider how often you travel in order to determine if full-time RV insurance is necessary for your situation. Depending on where you live, some states may require certain minimum coverage requirements which can influence premium costs – check with your local insurance providers for more information about state-level coverage requirements for RVs.
It's also important to understand what kind of discounts may be available before selecting an RV insurance company – many companies provide discounts for safe driving records, aging RVs and military service memberships among others. Be sure to shop around and compare various coverage options from different insurers in order to make sure that you are getting the best rate possible on your policy!
Additional Factors to Consider
When selecting the best RV insurance policy for your needs, there are other factors you may want to consider as well. These include determining the type of coverage you need, how much protection you require, and whether or not you would like additional coverage.
Type of Coverage: RV insurance policies often come with different levels of coverage. For instance, some policies may include comprehensive and collision coverage while other policies may only provide liability protection. It's important to research the types of standard coverage offered by an insurance provider so that you can select the one that best suits your needs.
Amount of Coverage: While shopping for a policy, it is also important to determine how much coverage you require. Consider your budget and lifestyle when choosing a policy so that it offers the amount of protection required to keep your RV secure on the road.
Additional Coverage: Lastly, there are usually optional coverages available for RVs such as personal effects coverage, full-timer's liability protection and total loss replacement plans that provide greater levels of protection for higher premiums. Taking time to review these options could offer additional security when living in or travelling with an RV.
Customer service reputation
When you're searching for an RV insurance policy, it's important to consider the provider's customer service reputation. High-quality customer service can save you time and money in case of an accident or claim. Be sure to consider the company's ratings from both customers and industry experts before you purchase a policy.
You should also research the provider's history in responding to customer complaints. Many companies will offer a dispute resolution process that resolves claims quickly and efficiently, though some may take longer to respond. The company should also have accessible contact options such as email, phone and live chat supported by knowledgeable staff that can help with any questions or issues you may have.
Finally, look out for added benefits such as 24/7 roadside support or discounts for installation of safety devices in your RV. Good customer service will ensure that your policies are tailored to meet your specific needs and that staff is readily available to help with any problems or changes required along the way.
Claims process and reviews
Choosing the right RV insurance policy involves more than just price – you should consider all of the features that the policy provides. An important part of this evaluation is understanding the claims process and reviews associated with a particular insurer.
The claims process outlines how an insurer will handle an RV insurance claim when you submit it for review. This can include details about how to file a claim, what types of coverage are included in the policy, what type of documentation you may need to provide, and any other relevant information. It is important to understand this process clearly so that when it comes time to file a claim, you know what to expect from your insurer.
Reviews from fellow RVers are also helpful in helping you decide which insurer's policy best meets your needs. You can read online reviews from customers who have had previous experiences with different insurers or check out ratings provided by industry experts and associations such as J.D Power or Consumer Reports. Reviews provide useful feedback on customer service, price point, availability of discounts and other discounts that may be available on top-rated policies, as well as other factors that will help you make an informed decision on selecting the right RV insurance provider for your needs.
Making a Decision
After you have analyzed your coverage needs and compared the different pricing estimates, you will have the information needed to make a decision. One of the biggest things to consider when selecting your RV insurance policy is whether the coverage it provides will adequately protect you if you experience an accident or other loss. However, it is also important to consider how a policy may affect your budget. In some cases, sacrificing smaller coverages may help keep premiums lower than if you had chosen a more comprehensive plan.
When deciding on an RV insurance policy for your caravan or motorhome, make sure to read through all of its provisions so that you are aware of the benefits and restrictions associated with it. Also be sure that all drivers who may operate the vehicle are listed on the policy and that any special equipment used in recreational vehicles is included in the coverage. Once you are comfortable with all the elements of your chosen RV insurance policy, sign any necessary documents and pay any applicable premiums.
Consider your budget and coverage needs
When selecting an RV insurance policy, the key is to find an acceptable balance between your budget and coverage needs. Evaluate your current needs, such as whether you are only going on short trips or planning to travel for months at a time. Consider potential additional needs if you plan to travel with family or pets or use the RV for business purposes.
Also consider what assets and liabilities you want to cover. Many policies can include extras for medical payments and roadside assistance, so it is important to understand what options are available within your budget.
Once familiar with the available coverage options, properly estimate which type of coverage best suits your RV use requirements and set a budget accordingly. Review quotes from different insurers and compare the cost of each one to ensure that you're getting the best rate on coverage that fits your needs. Don't forget to also review customer service satisfaction ratings when deciding which company you will choose for RV insurance.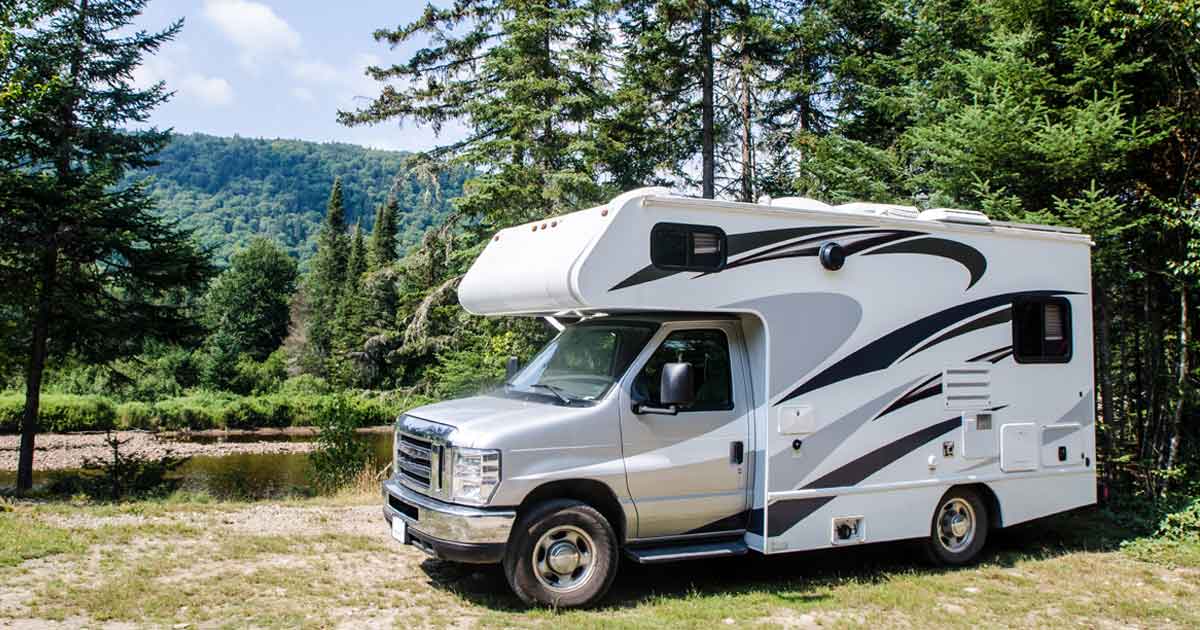 Choose the policy that meets your specific requirements
It's important to choose an RV insurance policy that meets your unique requirements. While there are many different types of RV insurance, all policies provide personal liability protection as well as physical damage coverage. Different insurance companies will offer different levels of coverage, so it's important to do your research and determine which policy is right for you.
When choosing an RV insurance policy, consider the type and size of the vehicle you own, the destinations you plan to visit with your RV, and any extra features or options you may need to ensure the security of your vacation. There are various types of policies that can protect against hazards like theft, vandalism, or flooding. You should also consider whether or not you need a full-timers policy if you plan on living in your RV for extended periods of time.
In addition to selecting a suitable policy for yourself and vehicles, it's also important to know what kind of services are included in the coverage as some policies cover roadside assistance and other services beyond what is provided by a basic coverage plan. It's also critical to understand deductible amounts before signing up for any policy so that you know how much out-of-pocket expense may be incurred in case an accident occurs or if the vehicle needs repairs due to damage caused by external forces such as hail or snowfall.
Finally, make sure that the premiums associated with the chosen policy fit within both your anticipated recreation budget as well as long-term financial planning goals. By taking these steps and understanding all aspects of your coverage options before committing yourself to a contract with an insurance company, you can maximize peace of mind when travelling in your RV knowing that adequate protection is secured along every journey taken!
Conclusion
You need RV insurance to protect yourself and your vehicle from damage or theft. RV coverage is different than other auto insurance, so it is important to make sure you select the best policy for your needs. In general, a comprehensive policy offers more protection for your RV and other belongings in the case of an unexpected occurrence. Further, this type of comprehensive coverage could potentially save you thousands of dollars in the long run.
Be sure to shop around and look into the various options offered by different companies in order to find the best deal possible on an appropriate insurance policy. This includes comparing coverage amounts and levels, exclusions, premiums, discounts offered by insurers, customer service ratings, and more. Factors like type of RV will also play into what sort of coverage may be right for you. Researching all these variables can help ensure you have the right policy in place to cover any damages or other losses that may occur as a result of using your RV.
See Also :